Quality Process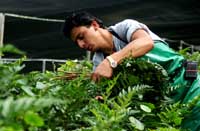 The foliage is harvested in the field once it has obtained all the necessary characteristics. The foliage is then grouped into rolls, which are placed in small packing houses located all over the farm, in order to keep them hydrated. It is during this first stage that the fern harvestor does the first quality control, eliminating the non qualified product.
After checking and categorizing the rolls in the collecting houses, these are then placed in baskets, which are transported to the main packing room where a process called "dipping" is carried out. This process consists in the application of a special preservative that cleans the fern and prepares it for packing.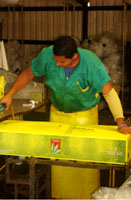 It is in the packing room where the second quality control check takes place. Here we make sure that the products always meet our previously established quality standards.  Once approved, the product is then placed in the corresponding boxes with a plastic cover that protects it from the cold. Once the foliage is packed, it is transported to the cold chamber where it is kept until it is sent abroad.
We transport our product either by air or by sea. Before exporting our product, however, a third quality control takes place in the cold chamber, performing a random check to verify its quality.  When preparing the transport equipment for exporting the product, a graphic temperature reader is installed in order to make sure that there are no anomalies
during the transportation of the foliage to its final destination.